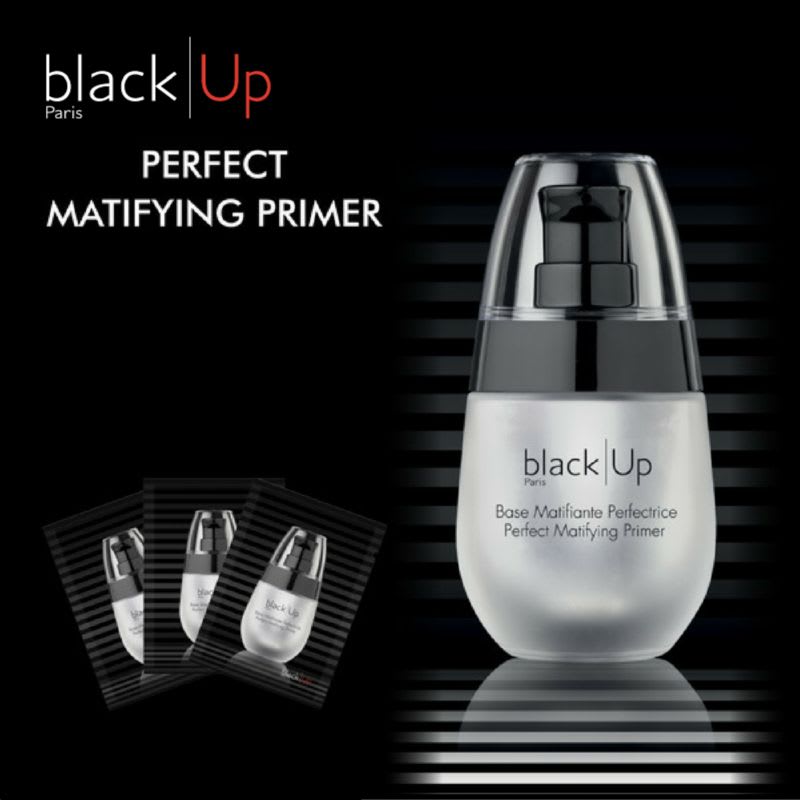 About two months ago (possibly three), I meet talented Makeup Artist Paulla De Souza. She is the Black Up BA for the company in Trinidad and Tobago and I am so sorry it took me forever to write this blog post!
At Stechers Trinicty Mall, she did a demo of their products on me, however from the title I will be touching on my experience with the face primer of which I received in sample.


Say Cheese!
THE PRIMER
Black|Up describes their primer :
Get a flawless complexion!
This primer is the perfect beauty tool for combination to oily skins to prepare the skin and sublimate makeup result. Enriched with a new active ingredient, it both helps control excess sebum and minimize pores. From the application, it instantly matifies the skin and improves makeup hold. Its smooth and velvety translucent gel texture leaves the skin comfortable and suit all complexions.
www.blackupcosmetics.com
First of all, I love silicone based primers and this one is. The only two silicone primers I hold dear to me is the La girl Pro Primer and the Smashbox Photo Finish Primer. I will be comparing the Black Up (BU) to the Smashbox (SB) since they are considered high-end brands. I have been using this primer for the past 2 1/2 months interchangeably with the SB.
TEXTURE
The BU primer feels a bit thick and a little sticky on application. I figured the sticky feel would help the foundation adhere to the skin better so I kinda got used to it. On the other hand the SB primer felt light weight, and smooth on the skin.
PORE MINIMIZING
I was not very impressed with the BU in this department. I dont have wide pores put I can tell when a primer gives my skin a velvet pore smoothing finish. This primer didnt do that for me. I thought by putting more primer on than usual it would solve the issue but it wasnt meant to be. With foundation over my skin just looked like I didnt have a base and you could still see my pores. For a high end primer it could do much better.
The SB primer however, gives the appearance of baby smooth skin right away, down to the feel. With foundation over, my skin looked airbrushed and effortless, which is something you want in your primer.
MATIFYING EXPERIENCE
BU does well fore all but 2 hours! My nose area is the first to bail, then the rest of the 'T' zone area. Talk about SHINE! Needless to say I am very disappointed that is doesnt hold up!
SB does a great job at keeping me matte during the day, however after 6 hours of wear then I start getting the oils seeping through.
Please note that both primers were worn in air conditioned environments.
OVERALL RATING
I give the Black Up primer 5 stars out of 10. For a primer that cost $44.00 US dollars per ounce, you may want to reconsider. For the same 1 ounce, the SmashBox primer is $36.00 US dollars. Everyone has different experiences with primers since everyone's skin is different. This is just MY experience so please dont take my review and write off the product completely. Before purchasing a full size, try the sample and see if it works for you. I understand there is another primer they carry that is awesome, so you can check that out if you like.
---
Want to see more honest reviews? Thumbs up this blog post and share with your friends so I know you like them! Like my Facebook page Beauty with Shaina to see when I post more blogs!
XOXO Shaina