Ever wanted to purchase an amazing perfume but the price was like, "No ma'am you cant afford to smell this good."?
Well I re-discovered a way to keep you smelling nice and keep mucho change in your wallet! This DIY will save you up to eight times the amount you would spend on an original perfume!
Step one
Perfume oil
Perfume oil is simply a highly concentrated version of an eau de parfum spray, only without the alcohol base. Mustapha's Ar-Ridha has a WIDE selection of perfume oils to choose from, which starts at TT$23.00 an oz.
One oz is fine for this DIY.
I chose 'Angel' by Victoria Secret. Fragantica.com describes it as
"a Floral fragrance for women. Angel Eau De Parfum was launched in 2015. Top note is plum; middle note is violet; base note is amber."
The hardest part may to be pick a fragrance, so make sure you know what you want prior, so you dont frustrate the employees!
Step two
A-a-a-a-a-alcohol
Now dont go throwing PUNCHEON in this please!!
Nor rubbing alcohol or vodka or methalated sprit!
You need ethanol which is 95% alcohol, which is the same as perfumers alcohol. This type mixes and breaks down the perfume oil so that the fragrance can disperce efficently when sprayed.
You can purchase ethanol locally through Valley Blossoms which cost TT$35 / 16oz. You cannot purchase online, unless you are shipping via sea since it is a highly flammable item.
The type of ethanol used here is safe to use on the skin as it is naturally produced by the fermentation of sugars by yeasts. I get a faint sweet wiff when I smell it. It does not give the fragance a 'alcoholic smell' and hence does not affect the smell of your perfume.
Step three
Get you a nice spray bottle!
I got 2oz glass spray bottles for TT$5.00 each at Mustaphas! I rather the glass than plastic because they are durable, reusable and save the turtles.
Optional
You can add labels to your bottles so you dont mix up the scents if you make multiple.
Instruction time!
For mixing of these ingredients we have to use some simple math or averaging. The chart below shows the ratio method for various perfume concentrations.
I will be doing the perfume 20%-30% ( I may have cheated to 40%) fragance oil.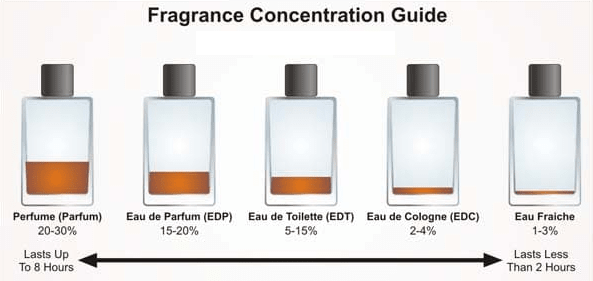 Since I used a 2 oz bottle, I used just over 1/4 oz of perfume oil and filled the rest of the spray bottle with ethanol.
Pour the ethanol little by little and swirl the bottle to mix as you pour. When you are done pouring, cover your bottle and shake!!
The oil and ethanol will completely dissolve and voila! You can now spray your favourite fragrance!
NOTE:
If your fragrance oil ratio is more than your perfumers alcohol ration, you will end up with very oily perfume. I notice that Mustapha's is offering a service where they add the alcohol but they are making a big mistake. They add a few squirts of the alcohol to the oil just to liquify it a little. However, it just sprays out oil in one place and the scent cannot disperse on the skin as it should. There is nothing to carry the scent.
How many coins have you saved?
One once of fragrance: $23.00
(1/4 fragrance used = $5.75)

One 16 oz bottle of ethanol: $$35.00
(1.5oz used = $3.28)

One 2oz glass spray botte: $5.00
TOTAL: TT$63.00 (cost per bottle: $14.03)
Original VS Angel Parfum 1.7oz: TT$406
Congratulations! You just made 2oz of parfum for at TT$14.00 a bottle!
I hope this DIY was insightful!
It's a pretty good budget friendly idea and if you have teens it can keep them away from your pricey stuff LOL!
I am really enjoying this scent and it last about 3 hours before it begins to really fade. However, the scent clings to your clothing, so you still get the scent.
If you do try this DIY please make sure to comment below and tag me on Facebook or Instagram!