This is possibly the fourth post about bronzer on shainabrown.com. We seem to love bronzer around here! Understandably so, cuz the sun is life and bronzer is an imitation.
What is Bronzer?
Bronzer is a makeup product that imitates a tanned or sun kissed look or glow. It typically has a yellow/golden undertone, but can also be found with a more red tone. Bronzers can be either matte or shimmer, in cream or most popular, press powdered form.
Check out my post about Fenty Mocha Mami bronzer.
Where do you apply/place bronzer?
Bronzer is applied where the sun naturally glazes the skin.
This can be different according to your face shape, which is what the article is about!
This beauty article was requested by the beautiful Fabiola who has been a reader for years! Thank you for the suggestion. If you have a topic you would like me to write about, holla at me!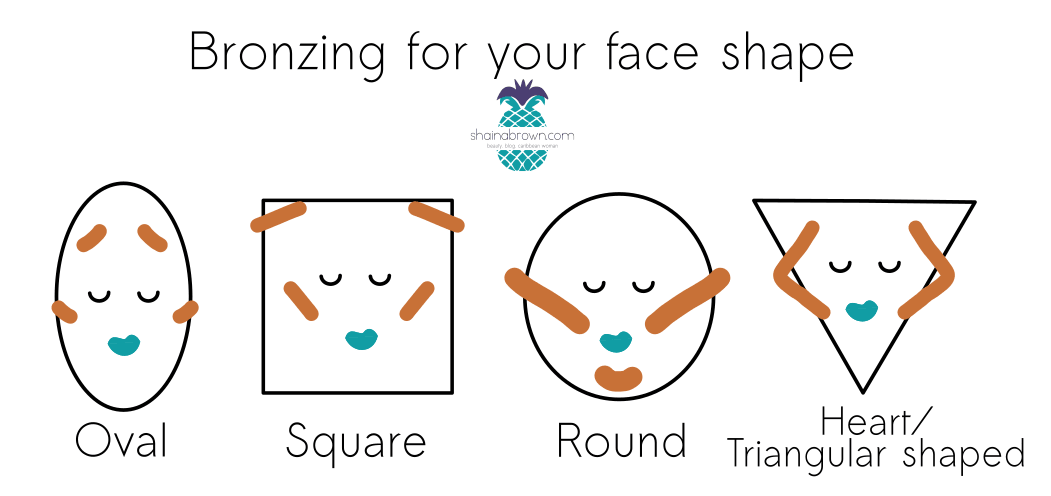 It can be very easy to get carried away with bronzing. Remember you are not contouring! You want to use a medium fluffy brush to bronze with, since all you want is a golden flush on the skin. Use a little at a time while applying and build up coverage to your satisfaction.
*You can apply bronzer on the sides of your nose too, just go easy with it. *
Oval shaped beauties
You want to place bronzer lightly on your temples and sweep across your cheeks. The temptation may be strong to chisel away in the hallows of your cheek bones, but relaxx...think glowing goddess.
Square shaped lovlies
Take that bronzer and work it into your cheeks like you would with blush. Place some on the sides of your forehead and blend into you temples. Do this very soflty as you dont want to over-exaggerate your cheek bones.
Rounded cuties
Let that bronzer kiss those cherub cheeks! Apply in upward sweeping motions to the temples with a little on your chin (optional). Even though this is not contouring, you will get a slight defined effect which is a win-win if you ask me.
Heart/Tri baes
The sun just loves you! Apply from the sides of the forehead, to your temples. On your cheeks, apply sweeping upward to connect with the temples and voila!
Are you dark skinned and confused AF? Go check out the links below.
I hope this article was helpful and now you can bronze like a baddie!
For all other bronzer related content on shainabrown.com, see links listed below. Following on Insta yet? DO ETT!!
Bronze bronze bronze
GHOST_URL/bronzer-collection-2015/
GHOST_URL/go-bronzer-bananas/
GHOST_URL/fenty-mocha-mami-dark-skin/
Need a visual?
Check out this very informative video by these two beautiful beauty content creators on Youtube!