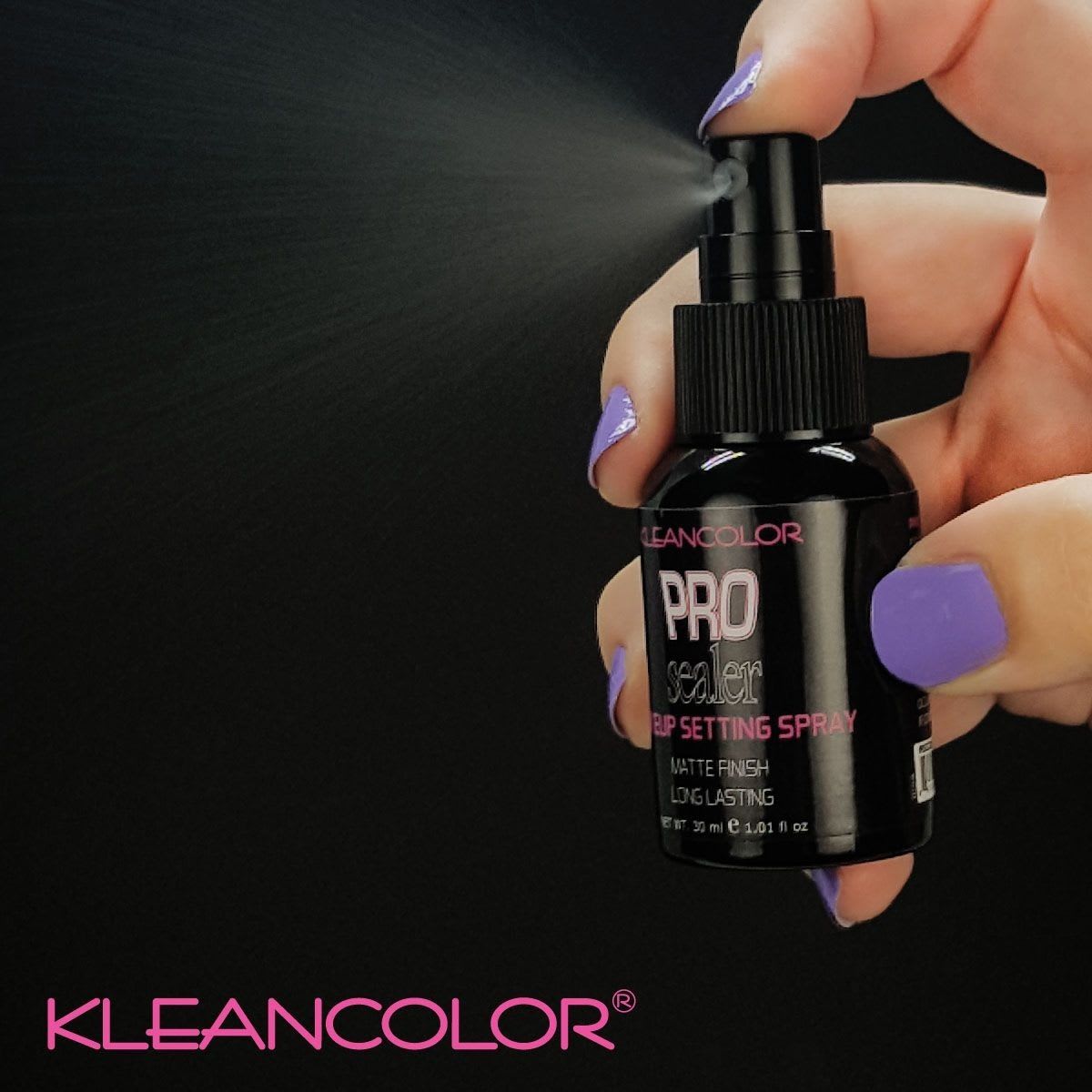 Does La Girl really need such long ass product titles for their products? Geez!
Hi readers! Happy new year 2017 and cheers to more beauty updates from yours truly. Recently I got my hands on two Kleancolor setting sprays and I will spill why in a moment. I decided to compare it to the La Girl Pro setting spray since they are visually similar and claim the same properties. As usual, I will list the pros and cons.
Kleancolor Pro Sealer Makeup Setting Spray

Ingredients
Water, denatured Alcohol, polyvinylpyrrolide, propylene gylcol, lithium magnesium silicate, silica dimethyl, silyate, diazolidinyl urea, methylparaben.
NET WT 30ml (1.01 fl oz)
PROS:
This formula is definitely MATTE.

Pleasant smell.

Makeup sets to a matte finish and last to a maximum of 6 hours.

Price - $15.00TT ($2.00 US)
CONS:
The spray nozzle expels too much product!

The ingredients.
(I have researched the ingredients, and while non of them are skin threatening/ non toxic to skin, I would have liked for it to have a 'natural' ingredient.)

After product is sprayed, it leaves a sticky feeling, similar to the Ben Nye Setting spray.
L.A. girl Pro HD
Ingredients
Water, Alcohol, VP/VA Copolymer, Propylene Glycol, Disodium EDTA, Niacinamide, Sodium Salicylate, Plantago Lanceolata Leaf Extract, Mahonia Aquifolium Flower/Leaf/Stem Extract, Phenoxyethanol.
NET WT 30ml (1 fl oz)
PROS:
Good misting nozzle

No sticky feel

Pleasant smell

Matte but more of a natural finish.

Plant extracts are great for sensitive skin.
CONS:
$40-45.00 TT ($8.00US per ounce)

Matte for a maximum of 3 hours.
Final thoughts
I honestly love the Kleancolor setting spray and it wins!
It keeps my makeup in place whether outdoors or indoors. It also reminds me of the Ben Nye setting spray but at a fraction of the cost; As for the nozzle, I took out the contents and placed it in an empty NYX setting spray bottle.
The La Girl setting spray, I like it. I really wished for the price point there would be an ounce more and it would be more mattifying. However, I would definitely recommend it to anyone who has sensitive skin or skin concerns. The Plantago Lanceolata Leaf Extract and Mahonia Aquifolium Flower/Leaf/Stem Extracts can be your best friend.
What should I review next? Comment or send me a message via my social media!
xoxo Shaina