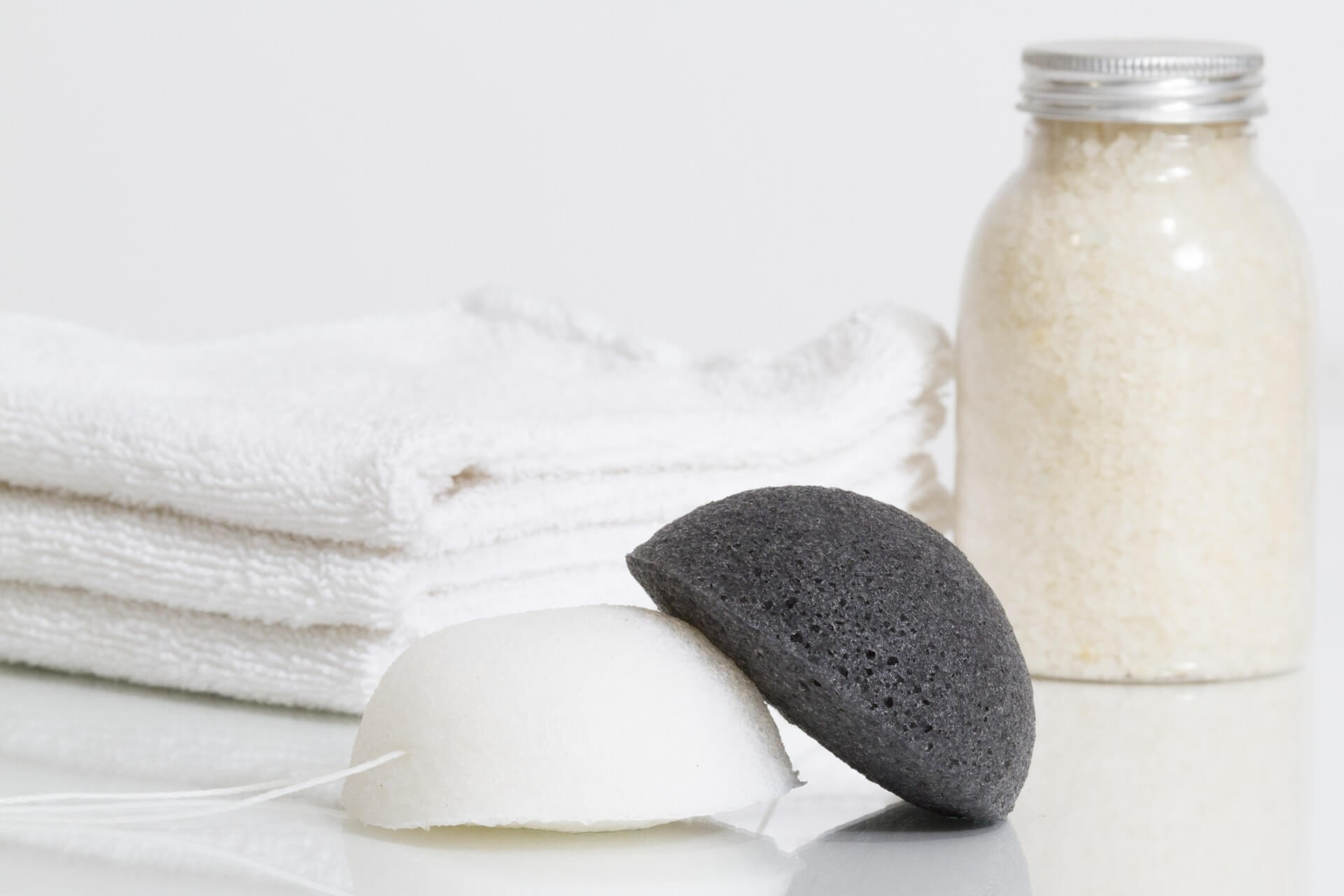 Approximately a week ago I got my first konjac sponge, after hearing so many raves about it in the past. It got mine at Sassy Suite for $15.00TT and proceeded to use it the same day.
What is konjac?
The Konjac potato or Konnyaku is a perennial plant native to Asia and can be found growing wild at very high altitudes. A totally natural food source, Konjac is 97% water, rich in mineral goodness and low in calories. The plant is naturally alkaline, which leaves skin perfectly balanced.
The KONJAC SPONGE is made from the konjac potato that the Japanese have traditionally used as a detoxifying dietary staple, and as a calming, naturally exfoliating sponge for delicate skin.
You can read more on: konjackspongecompany.com
Sponge out of package


In your search for a konjac sponge you will find different colours that are meant for different skin types. I picked up the black one (which is infused with bamboo charcoal), which battles dirt and cleanses pores. You can choose which ever one you prefer.
My Experience
DAY ONE
My review after one week of use, May 9th to May 16th.
First of all you have to let the sponge soak in some water for about 1-2 minutes to EXPAND and SOFTEN as it triples in size! The sponge is hard like pumice stone when received in the package and I have heard stories where people have tried to use this..... dry... #ICANT!
I used the sponge with my Freeman Dead Sea Mineral Foaming cleaner and massaged it all over my face and neck. To tell you the truth, the feeling is a bit weird as I was expecting the sponge to feel more exfoliating. In my opinion it was too smooth, however, my face felt fresh! The real magic happened when I used my toner to remove any excess dirt and there was NOTHING on the cotton pad!
Photo taken just before and after first use

DAY TWO to DAY FOUR
Using this product twice daily, I noticed a couple of things:
The dry skin on my lips have disappeared! every time I wash use the sponge it amazes me how my lips feel baby smooth! This is how I know it goes a great job at exfoliating and removing dead skin on my face.

The size of my pores seem to be decreasing. NO LIE GUYS!

My Skin felt noticeably smoother after each wash.

No dryness!
DAY FIVE to DAY SEVEN
For some reason I found that the sponge got a little 'resilient', meaning I found that it wasnt as soft as the first time I used it which I am totally ok with. By this time I just love using the sponge and Im taking my time to massage my facial cleaner with it. It is quite relaxing and I am at the point where I look forward to using it on mornings and afternoon/nights!
---
Overall Thoughts
This product is BOMB! Naturally I have included it into my facial routine and I cant wait to update you after a month of use. I definitely recommend this to persons who have sensitive skin and acne.
Konjac sponges are of various prices, and I dont know if price is determined by quality or brand. Some cost as low was $15TT and others close to $50TT, but in the future I will try other brands to see if they work any different.
Have you tried the konjac sponge? What was your experience? Feel free to comment under this post and remember to share, like and SUBSCRIBE!