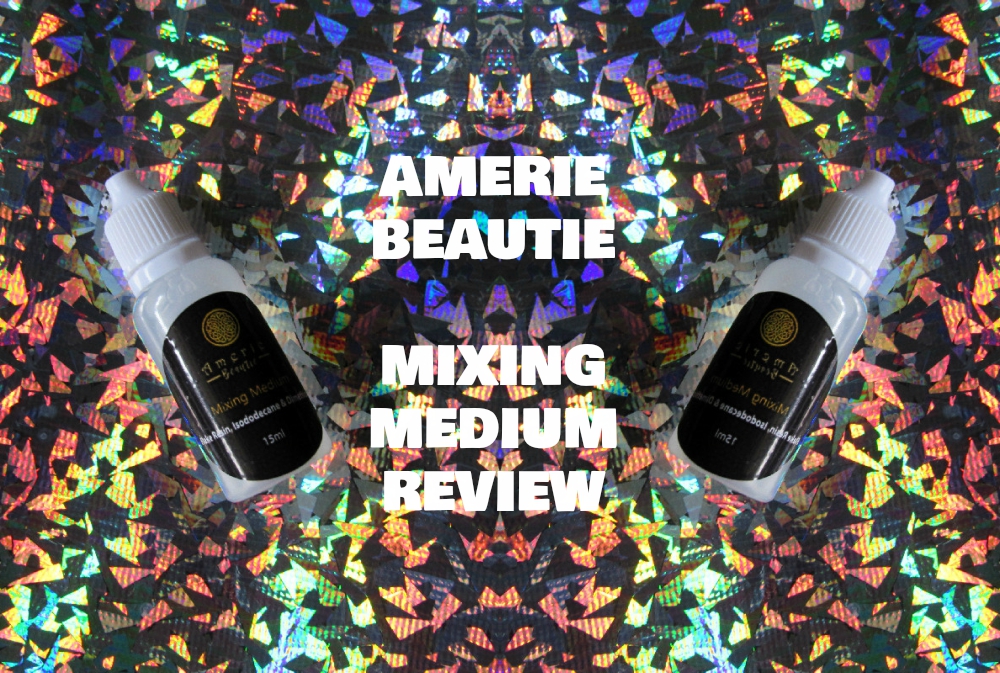 We've got our own Amerizzzie bishes!
Yes makeup lovers, Ive got a a mini review on Amerie Beautie's mixing medium! (I like to call them drops lol). Before Carnival she released them and I just knew I had to get one! Mixing mediums are especially great for MUAs to keep in their kits, as it comes in handy. You can make custom eyeliners with loose pigments and best of all with GLITTER!!!!!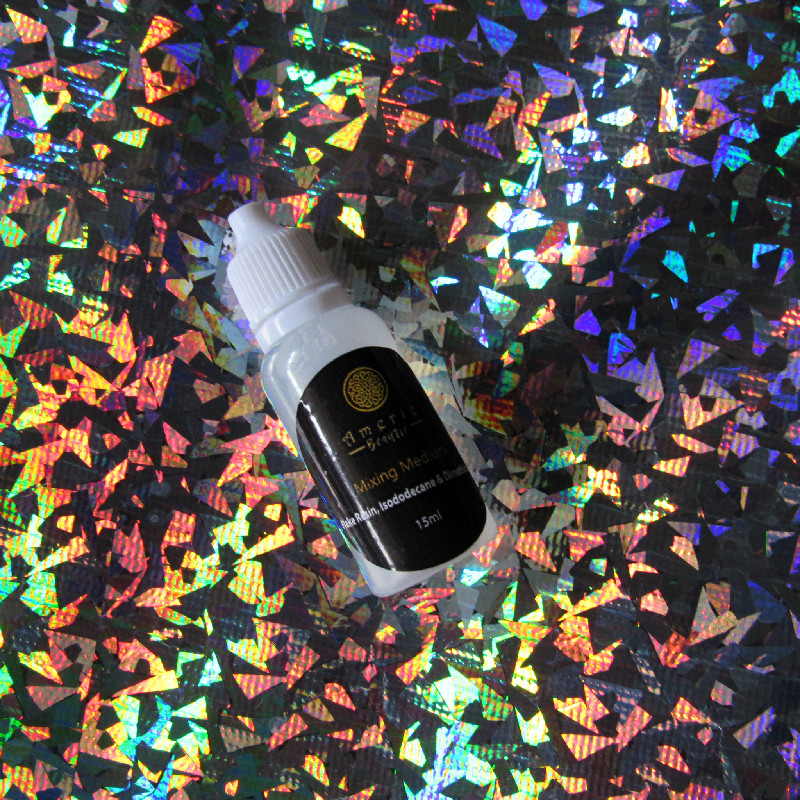 How de ting does wok!
? It wokin good!?
It wokin realll good!
Amerie says, "... I have developed my own formula that makes applying pigments easier and it's water proof and smudge-proof...Add 2-3 drops depending on the amount of pigment till all the pigment is incorporated
Best applied with a synthetic brush."
So that I did, and this product lived up to it's expectations. It doesnt move! Well it only does if you rub and rub and rub and rub and even then, it is quite a struggle to come off. I thought this medium would have been more of a syrup-like consistency, but it is a liquid. That doesnt take way the fact that it is bomb!
In this photo I tried it with a Soft Touch gold pigment.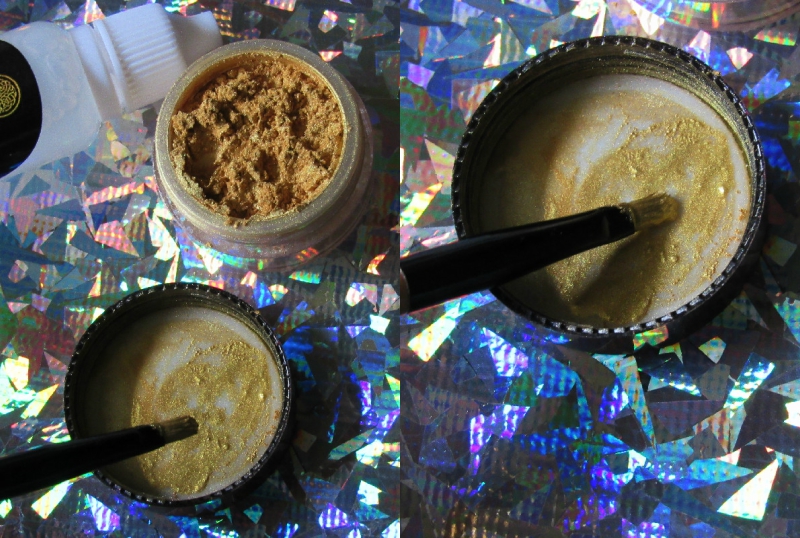 There is it in the first picture of the collage. The photo on the right are some eye shadows I was paying around with, even a matte black!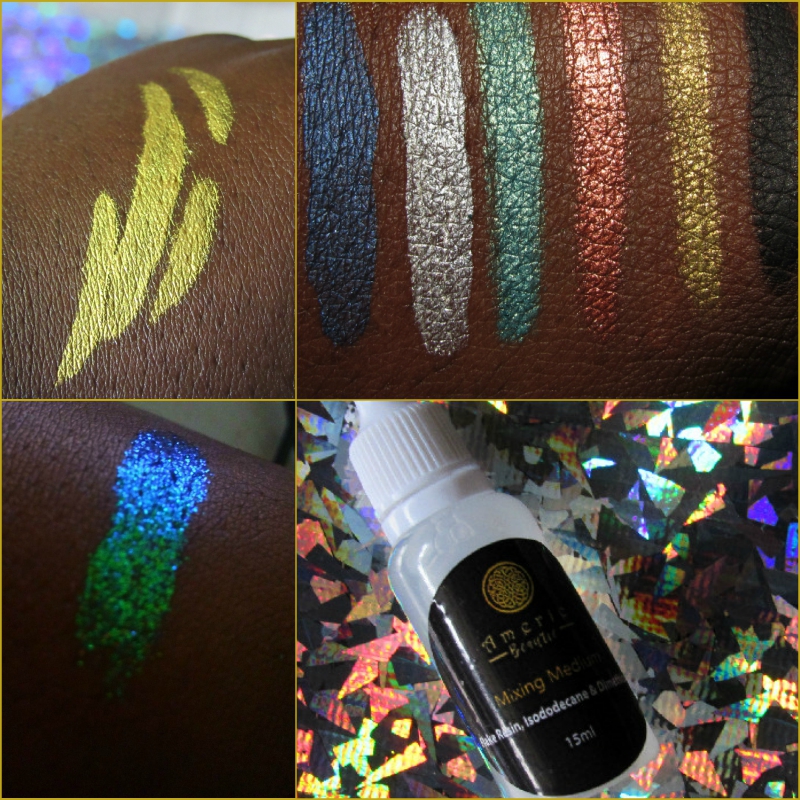 Im still experimenting with matte pigments and glitter to get the right consistency ratio of drops to pigment.
Eye Concerns
The drops itself has almost no scent, and I really like that. Sometimes when using products around the eyes, strong chemical scents can turn you off immediately. I dont have a photo of me wearing a liner I made on my eyes, however, it doesn't irritate me one bit!
It takes a little while to dry depending on how much liquid you make your liner with.
Package
The product comes in a 15ml, easy squeeze plastic nozzled-bottle. Easy to squeeze your drops!
Comparisons
I have never owned the Lit Cosmetics glitter base, so I can only compare based on price point.
Looking at their website, their smallest bottle is 4ml and it cost $10US!!!
"TeN UnItEd sTaTeS dOlLArs?? FOr SoOOo LiLL bITT??"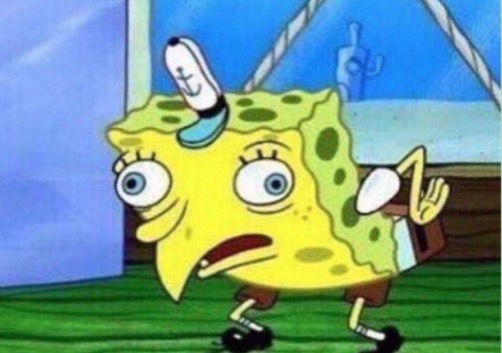 Shop by Amerie Beautie, get 15ML for $50 or $60TT (US$10) depending on the retailer!
I got mine at Just for you by Jace.
As a glitter base in comparison to the La Splash Elixir, I prefer the drops to make glitter liner. With the La Splash, you cant really make a good liner as it mixes messy and rolls into balls.
Final thoughts
I think this mixing medium is a MUST HAVE for the makeup enthusiastic and the makeup professional. As I play around with this product some more I will most looks with it and share some liner experiments on my Instagram Stories.
You can visit Amerie Beautie's page for more info on her previous and upcoming makeup releases.
---
XOXO,
Shaina
My name is Shaina, but most people know me as Strawberrie (my social media name).
I started doing makeup because of a love and passion for art. This was about the age of 17 and as I got older, that love slowly started making its way to my face. With lots of practice and a supportive partner, I gathered the confidence to face the beauty industry as a Makeup Artist and Educator.