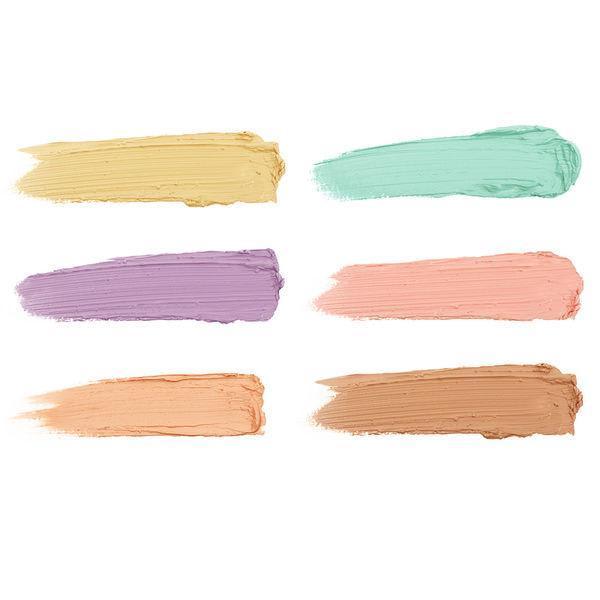 I've seen green and orange people...
In many Insta mini-torials, there is some sort of colour correcting.
You know, the green, orange, purple or even red thing you see some 'beauty gurus' slathering on before foundation.
"What is that?!"
Colour correcting is a technique used to neutalize discolorations on the skin that regular concealer or foundation may not beable to cover.
"Why the weird colours?"
Colour correction is based on the colour-wheel or chart.
Colours that are opposite of one another on the wheel cancel out or rather neutralize each other.
Green concealer cancels our redness in the skin, purple minimizes yellow spots, whereas yellow cancels out purple veins or bruises. Orange, salmon or peach concealer takes care of blue-ish marks or dark circles.

There is absolutely nothing wrong with colour correcting. Many people, like myself, have hyperpigment isuses and other skin discolourations that foundation and concealer simply cannot mask. Choosing a suitable colour corrector can help one achieve a uniformed, flawless skin tone. This is by NO MEANS an alternative to treating the skin.
The great pet peeve lies, when these correctors being used incorrectly, the wrong shades being used, and the unnecessary use of them.
Incorrect/ misleading use
It is HARDLY likey that someone is going to have use for every single corrector in the palette. Videos like the one above are misleading to makeup novices. Even though this clearly states "...this by no means is meant for everyday use...", some people will still believe they need all this, even though this is product promotion.
Not everyone needs colour correction.
Some of you are blessed with beautiful skin but want to pack on piles of unnecessary product. A medium to full coverage foundation or concealer can cover any minor discolouration.
The chart below simplifies it here perfectly!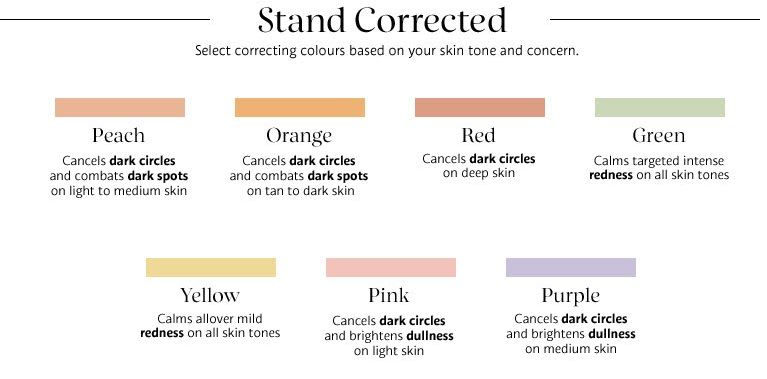 Find your correct corrector!
A common mistake makeup consumers make, is purchasing the wrong shade of corrector for their skin tone. What you will find happening is that you will start using more foundation to coverup the excessive CC, and it can turn out to be a big mess.
To prevent that let me break it down further:
Dark/deep skin tone: deep red or burnt orange.

Medium/light skin tone: salmon, peach or pink.

In my opinion, green and lavender concealers only apply to fair to light skin tones. Yellow concealer can be used on deep to fair tones to brighten. Its all in the technique.
I hope this article was informative enough to help you understand the basics of colour correction and its use. Still not too sure which one you should use? Hit me up in the comments or email me at shaina.cb@gmail.com.