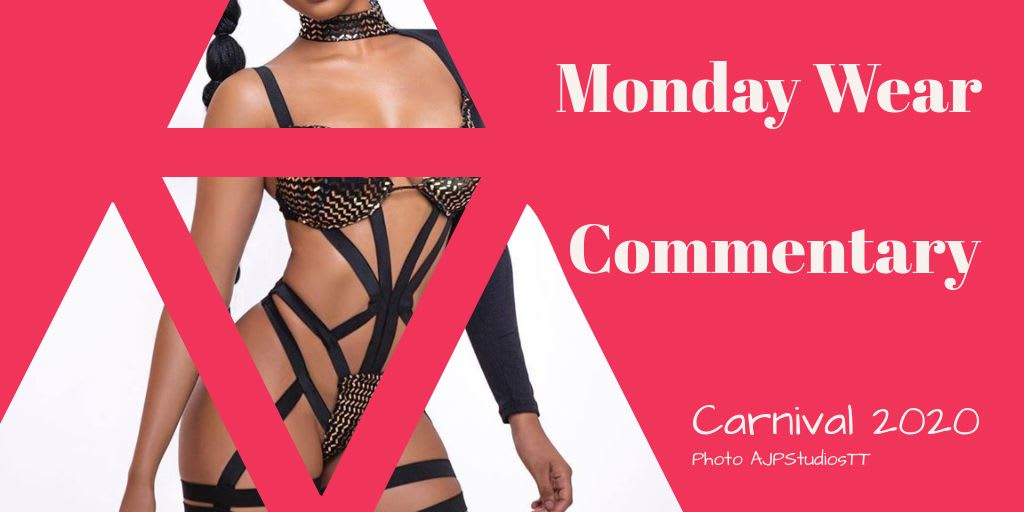 Monday wear has become a growing designer niche in Trinidad and Tobago for the Carnival season. Every year the designs get more creative and it makes me feel to 'jump meh self' and put on a haute piece to go no where (lol). I have come across these designers, some familiar or not, but either way, come check them out with me!
Risquay | Caribbean Designer
Ohhh goshhhhh!!! Superstarriri looking super hot in these risque` designs! I like that there is something for everywoman. There is the "meh body real bess and ah showin it" vibes, then the, "Well ah not so out day, but still want to show out" piece. But let us be reeaaaal real.... Superstarriri could make anything look real good. So if you decide to wear this, make sure your body inna gear like sheee.
Thanks.
The Art of Wear Designs
Well hear nuh! This wear knocked me out the Oval because I havent seen anything as creative as this yet! Rightly named Kitana (Road Fatality), you are sure to kill dem ded on the road 2020! It's the fans that caught my attention, but now Im starting to wonder where revelers going to put it when they get fed up.
For the large breasted, I hope there are designer options because ma'am, your tutus will be on Ariapita Avenue.
Sealy the Brand
This is quite noice. I like that the designer offers Monday wear for men, so you and your beau could matchy-matchy. It reminds me of Tribe's Anansi Monday wear but far less complicated, which is good.
Not a man, but I appreciate the design for them cuz most will just give them a pants...ALONE.
Female design doesnt give me revealing vibes but more sofisticated grown woman feel.
Curvy Goddess by Cher
Thick, round, sexy gyal need to play mas too! Curvy Goddess is not stranger to shainabrown.com as she was featured here last year on her first launch!
Cher's designs cater to the plus sized woman, a niche that most designers dont venture. Ticck and feel yuh cant get anything to look nice on yuh curves? The design below is my favorite, however, you have to be more pear shaped to pull it off. If you are large on top (me), this may not work for you. Check CG out for other style options!
Kalene Garcia-Gosyne
First of all, @xkandiexx (model) does make me feel to cry yuh know. Anyway, Kalene seems to be new and she has some sexy designs that look lingerie-esque. You are sure to have a happy partner all year round :).
I love the one sleeve style as to me, it adds a very sultry touch...Yes I have a thing for long sleeves.
I hope the wearers of these pieces put in WERK at the gym cuz yuh body must be fit and tight to get this right. (Cries)
Christian Fay Boucaud
Many people underestimate Christian eh. I dont know her personally but we sat next to each other in a maxi and I could tell she is a darling! Alyuh seein this below here?? Whether yuh slim or fat, you could look good in it!! Some of her designs are sold out already but this is my favorite one.
I feel like you could wear a jeans with this and slay just the same. As for me, I dont know where I would fit my tits, probably in 10 rolls of boob tape (Ha!!).
Tobye Melissa Gill
Umm.. Hi!
What in the fudgetastic is this?! Im sold on the sleeve design alone! I dont fancy the head band as I find it should have been something beaded like the working on the bottom piece. Dont worry if you forgot to wax cuz your lady parts will be every much covered (LOL I kidd!!)
I appreciate the workings on the sleeves; very complex and sofisticated. The gem piece on the bossom adds glam.
Rhion Romany Carnival AMATERASU
Small tits, big tits, yuh get tru. The working on the top piece is goregous! If you want to hide your girls and (stomach), the holo sequence can hide it (darker purple). If your have little to no girls, this can create the illusion of nice sized cantelopes.
Im getting the feeling that the back is a thong, so I will also leave this to the bess body women of Carnival.
Feeling the wig aesthetic.
Imousa TT
This costume is simple yet sexy and the beauty of it is in that SKIRT! Holo and 'diamonds'? Yes please! Can you imagine the light reflection of the sun on the material as one moves on the road? Mind blown!
Honestly, and THIS IS MY OPINION, I can only see a slim to medium built person wearing this.
Why?
Since this costume plays with light so much, something this flashy on a large person will just make them look bigger.
With that said, I still like it.
CB Concepts
I like that this designer as made Monday wear for plus sized women, but I dont fancy this particular design. I would have removed the excess sleeves and make it either fitted or 'less blousy'.
I like the elongated neckline and the rhinestone belt right below.
Would have liked to see a floral nude design on this like their other designs in this collection. Actually I prefer to see THIS design as the plus sized option (hopefully it can be).
Street Luxe | The Label
Have you not noticed I have a weakness for sleeves? When I look at this piece, I get East Asian vibrations; the sleeve pattern. And dont tell me nothing about the sleeves will have me feeling warm. Who TF cares when your arms can look like good! Talk about sun protection. Bout heat...
The belt is to wrap around yuh man so he dont get lost in the band.
Very oriental.
Yuh made it through with me?? Awesome! I hope you enjoyed! Tag the designers mentioned and share with yuh friend and dem.
Have a designer to add to the list, show me in the comment section!
Comment what wear you can see yourself in.
Till next post, Shaina
Header photo - ajpstudiostt