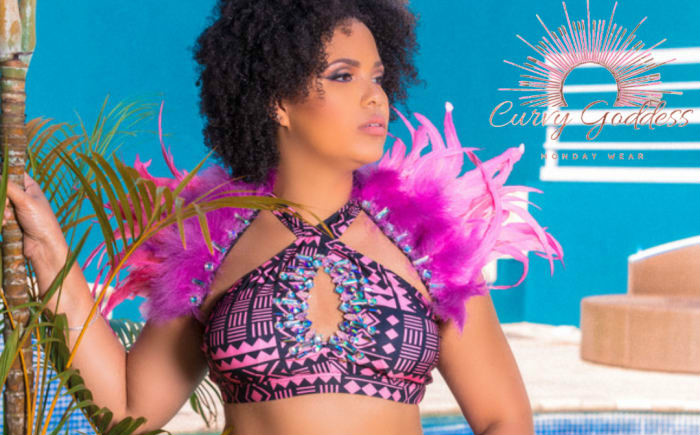 Carnival is colour!
Carnival is mas!
Carnival is woman!
However they come in all shapes, sizes, thickness, slimness, roundness, but some how the costumes most times, come in 'a one sized fits all'.
Many women find themselves rushing to get alterations before jump up day. Some dont bother, and end up with ill fitting wear that is plane unflattering to their body shape.
Cherisse Durante shares with shainabrown.com her story in the making of her Monday wear line, Curvy Goddess by Cher.
Cherisse Durante - center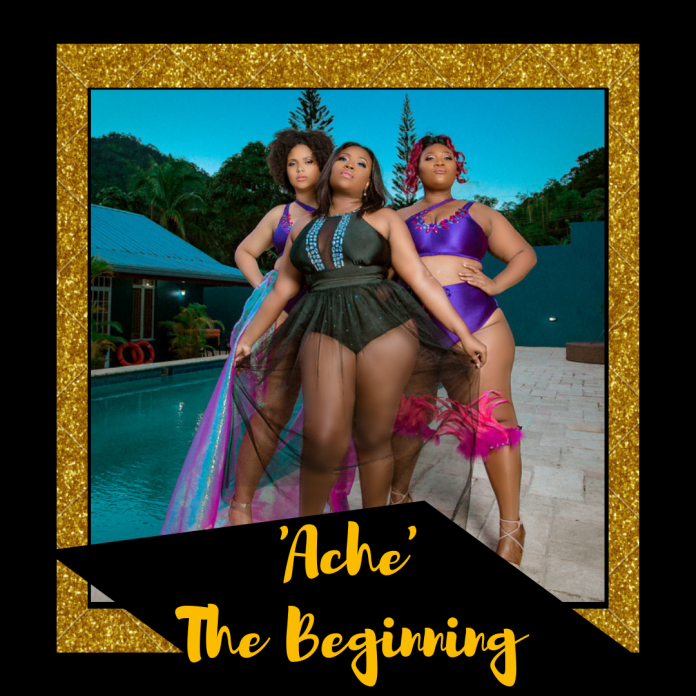 Preamble
Cherisse and I were school mates in 6th form (Poly Peeeeps!!!) She was always thick, curvy, beautiful, but more than that, she is a braniac!
I know you are an attorney (calling if I get in trouble lol). What prompted the launch of a Monday wear collection?
Call me any time you want (Machel Voice)!
The origin of my Monday wear was fostered from my personal experiences.
I have always been what persons call 'thick' in T&T. Now shockingly enough, none of my friends fall into the category. (LOL) So there I was playing carnival for the first time, and trying to fit into a carnival costume that was not designed for my curves. Year after year, it remained the same.
I then upgraded from trying to fit into the wear, to making alterations to my bra and hand sewing my own high waisted bikini bottoms so that I can feel comfy in my costume.
I have always made all of my Monday Wear costumes from the first time I started playing 'mas'. Because we all know, it would have been almost impossible for me to get a flattering Monday Wear outfit from what is being offered out there.
Actually, I wanted to offer my designs to curvy women for several years. But I was always very nervous about it. So for 2019 I took the plunge and launched my Curvy Goddess Line! This Line is specifically made to empower curvier women and include them in the Carnival Industry!
FINALLY!
Your 2019 collection is named after Greek goddesses. Tell me more about how you went about choosing the names for each piece.
The goal of my Curvy Goddess Line is to empower curvy girls out there. I wanted when you saw my brand, you immediately wanted to be part of it. A Goddess is the highest form of a female entity. So why not call our 'thickies' out there Curvy Goddess!
The names of each Curvy Goddess Collection has a significance.
Hera- The Goddess of All Goddesses
This Collection encompassed a striking, bold and powerful woman. It's the piece with the most flair and thus it was given the most powerful name.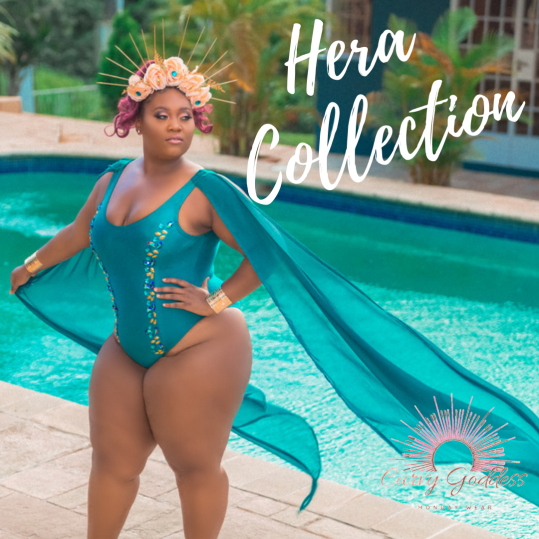 ---
Tyche- The Goddess of Prosperity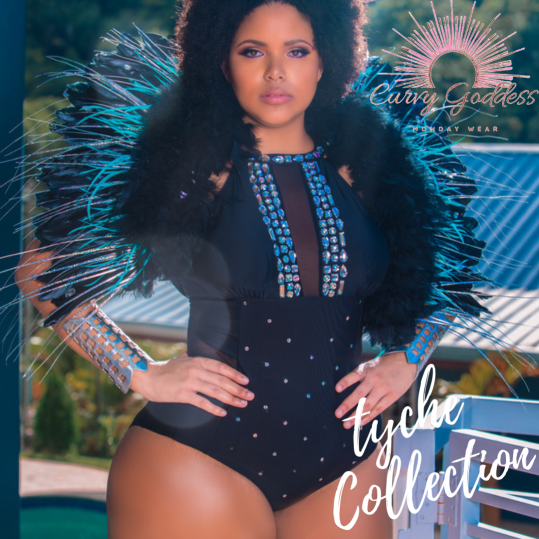 This piece is dripping with diamonds. So its only fitting that I name it after the Goddess of fortune. This is one of my Collection best sellers! And I can't give them wrong.
Its absolutely beautiful.
---
Aphrodite- The Goddess of Love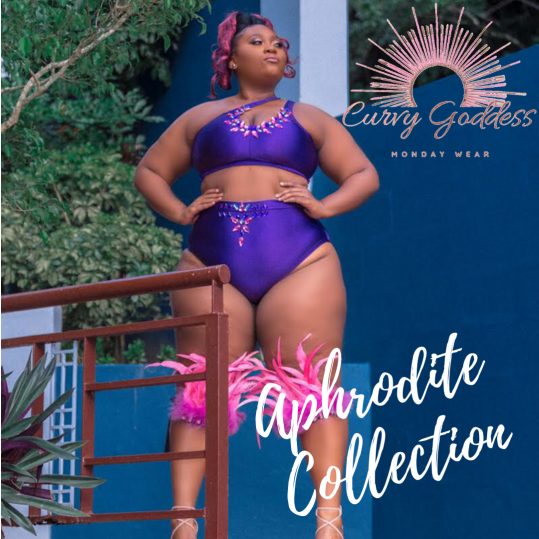 This is the the sexy piece. It embodies sex appeal and a love for the curves of a woman's body. So of course I had to name it after the Goddess of love, pleasure, beauty and procreation.
---
Aurora- is the Roman Goddess of Light
PS - This is my ABSOLUTE favourite of CG 's collection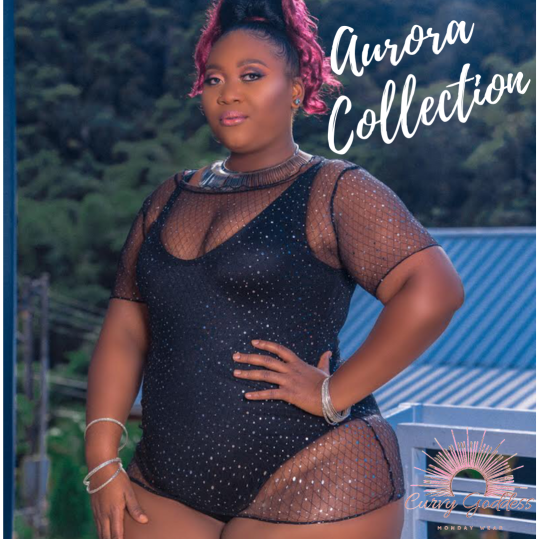 The bling on this thing!
The beauty and light that shine from the reflection of this collection is superb. It picks up light and throws it right back at the viewer of the piece. It's only right that I name it after the Goddess of light.
---
Athena- the Warrior Goddess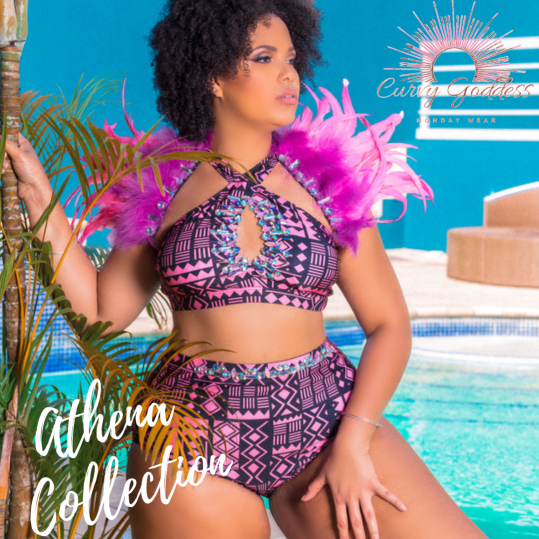 The tribal print of this piece embodies strength and fierceness. It almost straight out of Wakanda! And we all know that the women were the warriors in the movie. Athena being the Goddess of war, strength and strategy; the name was fitting for such a strong tribal piece.
---
This may be a difficult one, but what is your favorite piece?
My gosh, it is.
My first love was Aurora!
Then I finished Tyche I was sold! Love at first wear!
Then I wore Aphrodite and saw how sexy the bra piece came out and I was like "Whew Chile!"
My second to last piece I wore was Athena and I loved it's support and colours! But the most shocking love that came out of it was Hera.
You see that crown a cape?
I'm dramatic, so when I came out and the wind took the cape, that was it! I was in absolute awe of it's beauty.
So to answer you, I basically love which ever piece I put on. Which is practically my entire Collection ?
For any woman making a choice for Monday wear, what makes Curvy Goddess the best choice?
What if I told you that she can finally feel comfortable, beautiful and look snatched doing so? Because that's basically what you're getting with my Curvy Goddess Line.
I developed my line so that each piece is designed to help smooth those pesky areas, accentuate those sexy areas and streamline your silhouette to allow you to feel confident and sexy in your Curvy Goddess swimsuit.
Would we be seeing more of CG in 2020 and beyond?
(Give me some hints!)
Definitely! I already have plans of what I'm gonna do next! I'll be pushing the sex appeal even further for us Goddesses!
I may also be looking at touching down in Carnival in a few countries in 2019 as well! God's Willing.
It is my hope that Curvy Goddess becomes a household name that represents the curvy sexy women out here!
---
Querky Question Time!!
What cosmetic item is ALWAYS in your purse?
Mac Lipglass! Can't live without my lipgloss poppin'
(This I can testify to be true because she did this since school days lol)
Glam or Natural?
Medium. LOL. I'm becoming a little riskier with my makeup routine. However, I still try and keep it a little natural so I don't shock persons.
DC or Marvel
Imma have to say Marvel- "WAKANDA FOREVER!"
Beard Gang or Clean Cut
Beard Gang for Life!
---
For more on Curvy Goddess, visit their website at
www.curvygoddesstnt.com
and their Instagram at @curvygoddesstnt
Show this post some love by clicking the heart button, sharing and SUBSCRIBING to our news letter.
XOXO,
Shaina