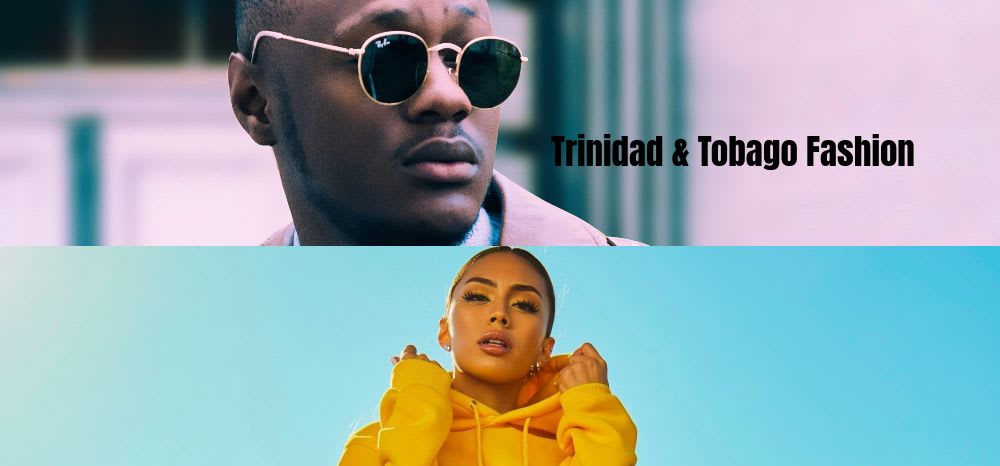 Editor's note: We know Trinis cant wait for this God forsaken pandemic to be over so they could party and go to the beach.Shout out to all these amazing local designers who will suit you up to look your best self!
Clothes have always been a way of expressing ourselves. The right fitting garment that shows off our personality and curves can sometimes crack open a confidence in us that can otherwise be buried when we're caught up in the absolutely, ridiculous beauty standards of modern society.
In the Caribbean, particularly Trinidad and Tobago, Monday Wear and Swimsuits have become a booming industry. Donning the right piece can make you go from feeling like Monday 9am and craving coffee, to a runway model. With our culture, Carnival is not the only opportunity to wear these outfits but it's 'summer' all year long. This means beach all year long and with the plethora of committees, parties all year long- which sometimes invite you to wear Monday Wear outside of Carnival.
If it's one thing I know about Trini men is that they are dressers! Hardly I'd attend a party and a mans' doesn't have his fade freshly done, button down shirt and fitted pants. In this article I also include some places you can go to get something for your mans or if you're on here as a bredrin, for you too.
Caribbean Spyce
Monday Wear:
The Haute Couture Goddess, Tobye Gill
If you're looking for intricate detailing and a multisensory experience in your clothing, with a dimension of texture and colours- Tobye is your girl.
Her pieces are exquisite and elegant and honestly deserve to have a space on Paris Fashion week alongside Christian Siriano. Forget taking a trip to the Louvre, you're about to be living, walking art.
Find her at: @tobyemg
Monday Wear:
Unapologetic and Fierce, the Femme Fatale: Thais Razak.
Having a hard time being the bad bitch you know lives inside you? LET ME TELL YOU, Made In ThaiLand pieces will sure as hell do that. There's something about wearing a sexy, dominatrix-esque piece that brings alive the Cat Woman in us, that we can be too shy to show or if you have no problem doing that- prepare to level up. The best part? Thais has an extra caring touch to her clients. If you think you can't strut a piece, she has a listening ear that her hands obey to craft. Find comfort in your sexy with Made In ThaiLand. I know I have.
Find her at: @madeinthai_landdesigns
Monday Wear/ Swimsuit:
Madame of Fun, Flirty and Vibrant - Meiling Mack
Ahhhh...
The Caribbean woman and all that she is. She is full of life with a laugh that fills the room. She dances to the Calypso as though she were living musical notes. Born under the sun, daughter of the soil, she bring life wherever she go. And that is what Made by Mei embodies. Her pieces are colourful, youthful and they speak for you. They express happiness and a vibrancy that no one can take from you. They kinda remind me of if a man were to tell me I'm too loud and I need to quiet down, I'd wear one of her pieces as a big feminist f*ck you. Dare to be loud and who you are in a Made by Mei.
Find her at: @madebymeitt
Swimsuit:
The Gypsy Soul, mother of beach bliss and beauty-Vanita Dalipram
I call her the mother beach bliss and beauty because her design inspiration is what one could describe as a mentality she hopes to pass unto her clients through her pieces. Sometimes a client might say, "surprise me!" and what you get is a piece that leaves you…well surprised. Vanita has a habit of pushing her customers out of their comfort zones with her colour choices and patterns. Her work is to leave you feeling like you were a mermaid this entire time and only just found your tail. You are a siren, born of the tempest, meant to cascade the shores in your confidence and beauty and you'll definitely do that in one of her custom pieces. Her work is ever evolving, just as you are - follow along the journey together.
(Shaina edit: Important to note that her swimwear is all handmade by crotchet!)
Find her at: @drevaitswimwear
For the man dem
Hello, my mens' or a friend buying a gift for the mens'! Here are the brands I love for a fresh look.
Long Weekend:
The Confident Dude
With an aim to bring the Caribbean man ease of access to timeless fashion at great prices, Mr. Brewster and Mr. Bernard hand select items that appeal to all your moods. Ranging from a classic look to chill vibes, your options are endless to be the pinnacle of fashion amongst your friends. Their options are lightweight, conventional all while leaving you the dapper gentleman that you are. And guess what? FREE SAME DAY delivery. I meannnn, if yuh last minute, go through.
Find them at: @longweekendtt
Individually you can find them at: @decodedmind and @maurice_thread
Brand 1989:
The Fashion Forward Gentleman
With sharp and dynamic pieces that manage to give you the laid back, but clean look- Brand 1989 is where it is at. Their pattern choices give you an opportunity to present yourself without speaking for yourself. It exudes confidence, while you rock back on your own beat simply enjoying yourself. Guy meets Caribbean Gatsby, if you will. The team behind the brand bring to you the route to being the powerhouse of a man that you are.
Find them at: @brand1989
Individually, you can check out their accounts: @lindii_belle and @r33mz_17.
Michael Marquis Designs:
The Divine Man
Just like our women, I know there are men who love a custom made piece. Sometimes, a retail bought shirt just doesn't fit you right. For my Kings, I bring you great news! There is an artesian gifted by the gods who specializes in men's wear and his name is Michael Marquis. Michael's talented eye draws details to your kit to brand the man you know you are. His work is handcrafted, diligent and I repeat: custom made. If you know you want to hold your scotch on the rocks with an extra air of confidence in something that is purely you and only you, Michael has your back. Expect to walk in decadence.
Find him at: @m_marquis868
And there you have it, people you can go to for your hot gyal fits and your gentleman's kits. In another article, don't worry ladies, I'll be covering where you can get other fits that are swimsuit/Monday wear! Stay tuned.
Who is the writer?
Caribbean Spyce is a proud alumni of Hillview College and graduated Bsc Psychology, First Class Honours, UWI, St. Augustine. A member of honours society, Psi Chi.
Follow her on Instagram! @caribbeanspyce